About Us
When life gives you lemons…
…start a successful business with them!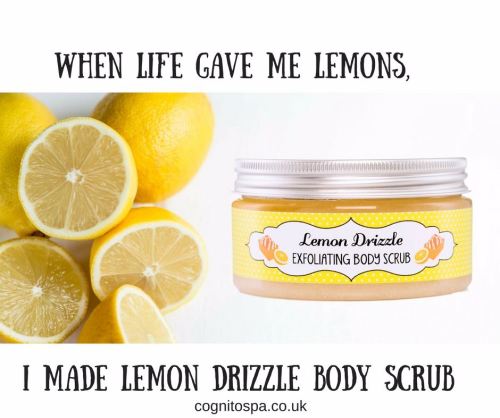 It's hard to imagine that something as horrible as a nasty car accident could have led me to where I am today. Sometimes, though, inspiration hits you at the most unexpected times.
Back in July 2010 I was involved in a car accident which meant that I was forced to take time away from working hands on in my beauty salon. Being off work was a bore for someone like me, and while I was pottering around, I decided to get creative.
I started playing around with essential oils and other natural ingredients to see if I could come up with a new product or two for my Therapists to use in treatments. I wanted to design something that smelled delicious, and I came up with the Lemon Sherbet Fizz Body Scrub and Massage Oil. It really does smell gorgeous, just like the old fashioned Refresher sweets, and clients loved it so much that I started using it as a regular product in my salon when I was back at work.
After being in another car accident (yes really) just 15 months later, it became apparent it was time to switch off the wax pot and put away the facial products from my salon life and concentrate more of my 'smellies' making business.
Since I introduced the Lemon Sherbet Fizz range it's become one of my bestselling products – one sniff of it and you'll see why. It transports you back to sweet shops and bakeries. I've since renamed it 'Lemon Drizzle' because that conjures up images of traditional cakes and afternoon tea, which fits in beautifully with all of my other Afternoon Tea inspired products.
Don't just take my word for it – my customers adore the smell and the effects of the Lemon Drizzle range.
"Hey Sarah! So I can't tell you how much I love the Lemon Drizzle massage oil! How you got it to smell exactly like lemon meringue pie I'll never know!"
That's my secret!
So every time I hear that phrase about making lemonade when life gives you lemons, it makes me smile and think, "I made Lemon Drizzle instead...."